Who we are
Chesterton choral society is a non-audition amateur mixed choir based in East Chesterton, Cambridge.
The choir is relaxed and friendly, preferring to enjoy a wide range of styles of music, from classical and sacred works to well known songs from past decades. About forty to fifty strong, the choir celebrated its 50th anniversary in 2014 and continues to grow in strength.
Next concert
Sunday the 3rd of December at 4pm at St Laurence's Church. The concert is themed "Christmas around the world" and includes carols from Europe, America, and Asia, including Charpentier Midnight Mass for Christmas, Chestnuts Roasting over an Open Fire, Mary had a Baby.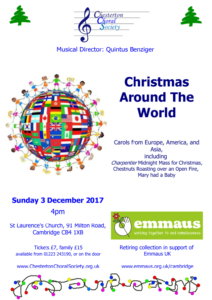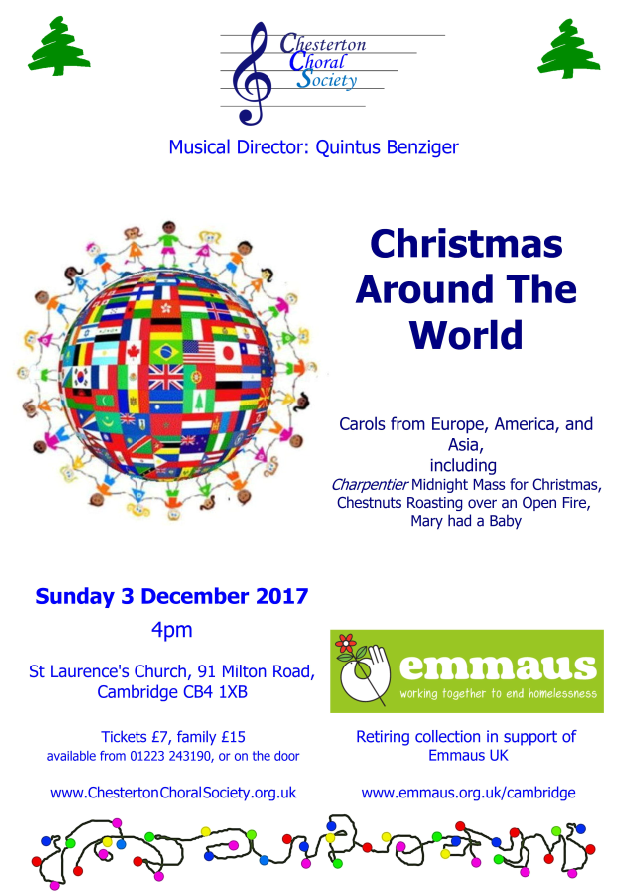 Rehearsals and concerts
Rehearsals take place on Monday evenings from 7.30-9.30 pm at Chesterton Methodist Church, Green End Road, Chesterton, Cambridge CB4 1RW.
The choir rehearses during school term, and works to a three-term programme with a concert at the end of each term. Concerts often take place at 7:45 pm at St Laurence's Church, 91 Milton Rd, Cambridge CB4 1XB.