Forthcoming Concert
Our next concert will be held at 7.30pm on Wednesday 6th December 2023 at City Church Cambridge, 15-16 Cheddars Lane, Cambridge, CB5 8LD. It will include Vivaldi's Gloria and a selection of seasonal music and carols.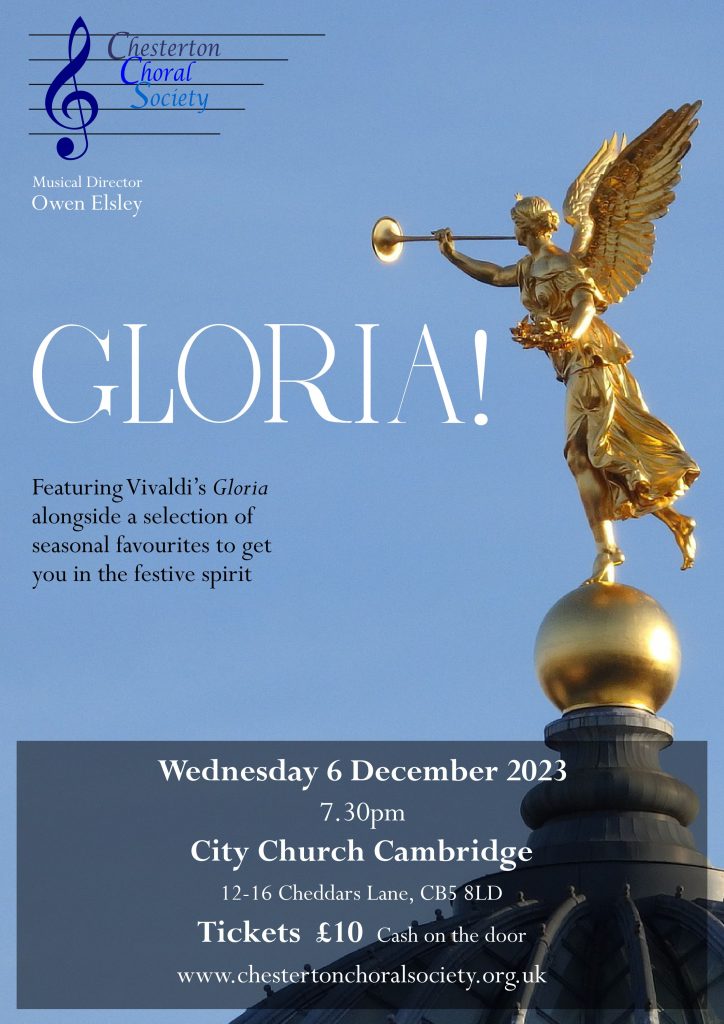 Some Past Concerts
Summer 2023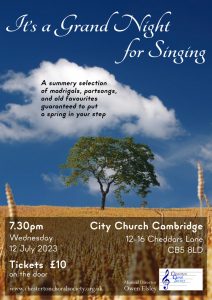 Our 'It's a Grand Night for Singing' summer concert included the following programme and two poems written by our own Ian Whybrow and read by Ian and fellow choir member Margaret Ingram.
Sumer is acumen in Anon
In these delightful pleasant groves Purcell
In the merry spring Ravenscroft
Linden Lea RVW, arr. Somervell
Bluebird Stanford
Diaphenia Stanford
As torrents in summer Elgar
O what a beautiful morning R&H, arr. Stickles
Some enchanted evening R&H, arr. Stickles
It's a Grand Night for Singing R&H, arr. Stickles
Summertime Gershwin, arr. Stickles
If ever I would leave you Lerner, arr. Yoder
We'll gather lilacs Novello, arr. Derbyshire
Over the rainbow Arlen, arr. Chinn
All the things you are Kern, arr. Stickles
As time goes by Hupfeld, arr. Robinson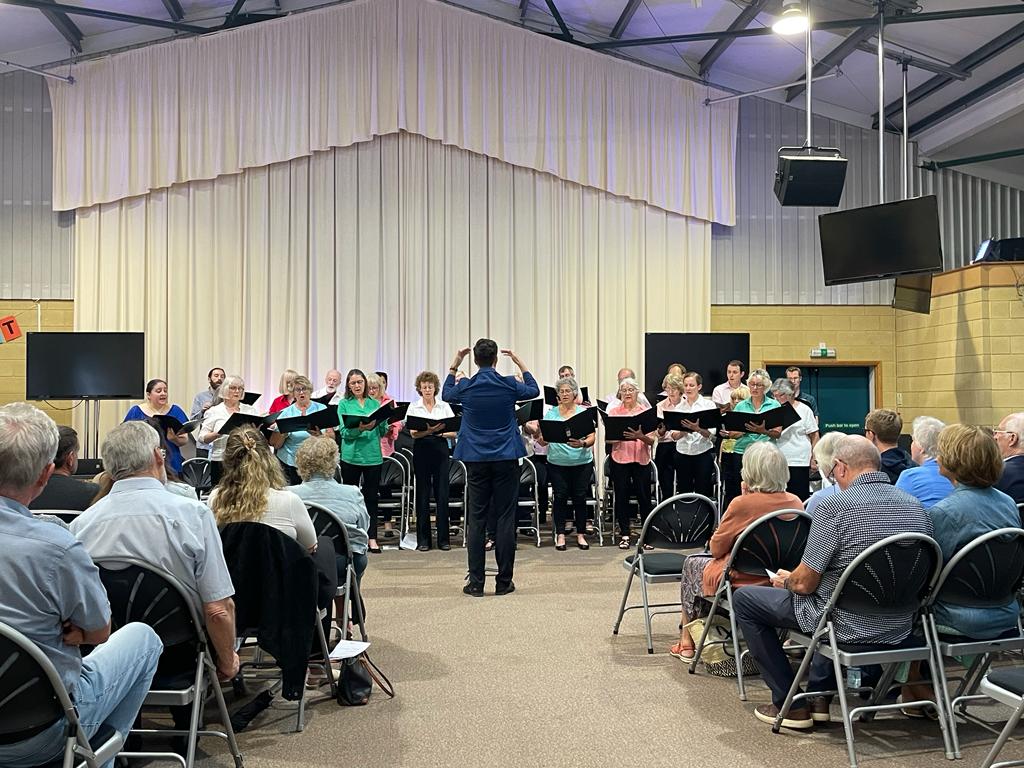 Spring 2023
Several soloist joined the choir for our concert on 22 March 2023 at St Andrew's Church, Chesterton, where we were also accompanied by the church organ. The choir sang the following programme:
Gabriel Fauré: Requiem
John Taverner: Song for Athene
Gabriel Fauré: Cantique de Jean Racine
WA Mozart: Ave verum corpus
Felix Mendelssohn: Hear my Prayer
Lili Boulanger: Vieille prière bouddhique
2019
Sunday the 8th of December: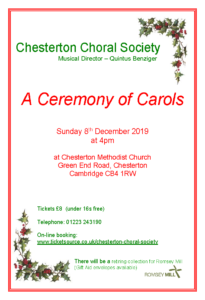 Sunday the 21st of July: A Life on the Ocean Waves. Excerpts from Gilbert and Sullivan's "Pirates of Penzance" and other Sea related songs.
Sunday 7th of April: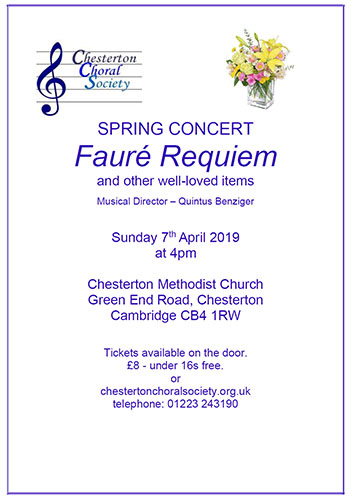 Fauré Requiem and other well-loved items
2018
Sunday 9th of December: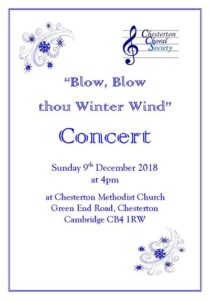 Blow, Blow, thou Winter Wind – seasonal music including Let it Snow! and Winter Wonderland.
Saturday the 14th of July: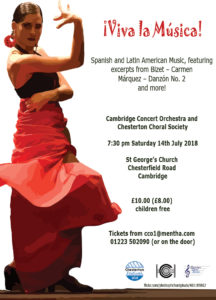 ¡Viva la Musica! A joint concert with the Cambridge Concert Orchestra and part of the Chesterton Festival.
Sunday the 15th of April: Canterbury Pilgrims
2017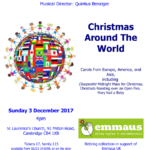 Christmas Around The World – 3 December 2017
Charpentier Midnight Mass for Christmas
Carols from Europe, America, and Asia
Chestnuts Roasting over an Open Fire
Mary had a Baby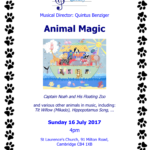 Animal Magic – 16 July 2017
The Hippopotamus Song
Rolling Down to Rio
Old McDonald Had a Farm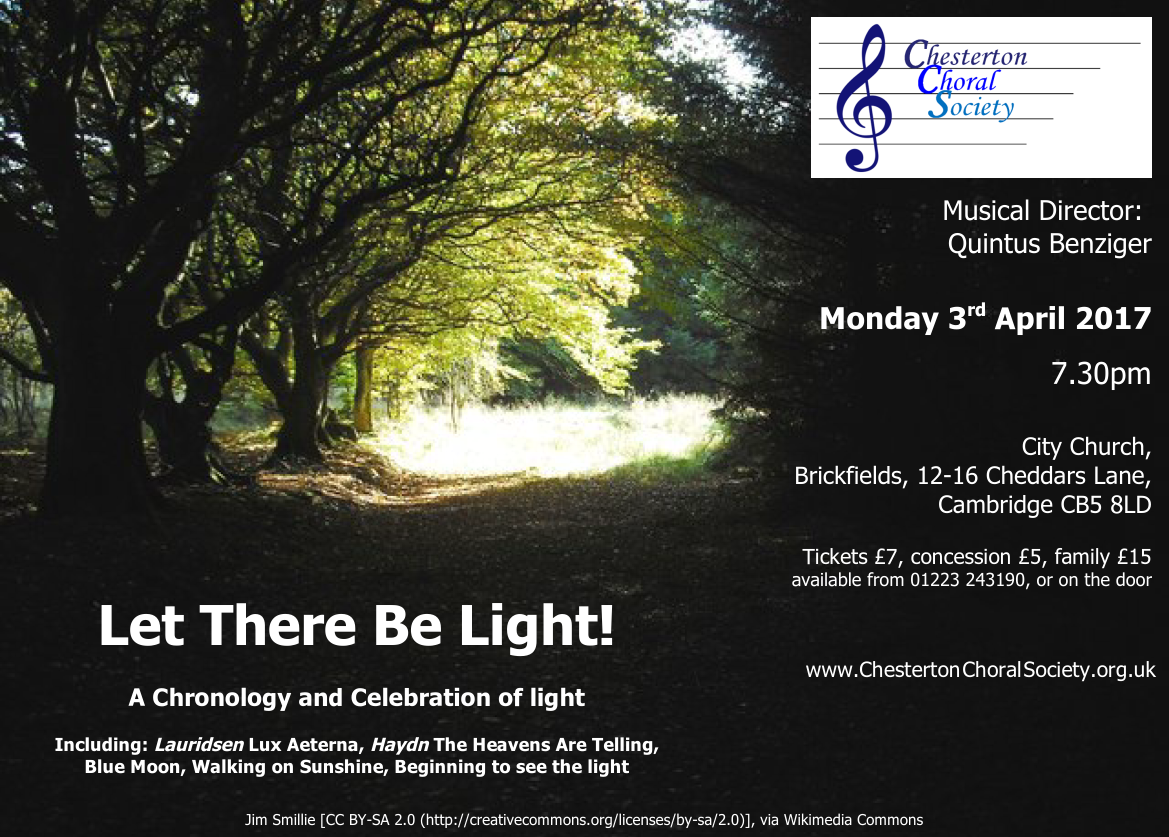 Let There Be Light – 3 April 2017
Included a wide range of pieces from Lauridson's Lux Aeterna and Haydn's The Heavens are Telling through to Walking on Sunshine (and beyond!)
2016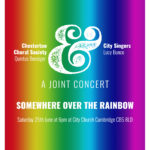 Over the Rainbow – 25 June 2016
Joint concert with City Singers, a children's community choir
Andrew Carter – Benedicite
Burns – My love is like a red red rose
Beatles – Yellow Submarine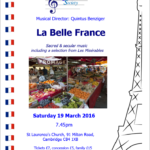 La Belle France – 19 March 2016
Duruflé – Requiem
Fauré – Cantique de Jean Racine
Schönberg & Kretzmer – Les Misérables
2015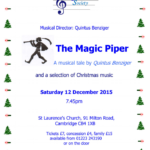 The Magic Piper – 12 December 2015
Quintus Benziger – The Magic Piper
Words adapted from Browning – The Pied Piper of Hamelin,
Music adapted from Mozart – The Magic Flute
Vaughan Williams – Fantasia on Christmas Carols
Berlioz – The Shepherds' Farewell
Gruber – Silent Night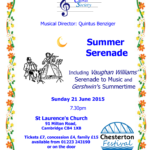 Summer Serenade – 21 June 2015
Part of Chesterton Festival!
Webber – Music of the night
Gershwin – Summertime
Fauré – Such a night (Pavane)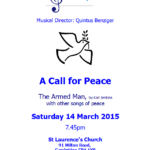 A Call for Peace – 14 March 2015
…
2014
…
Golden Jubilee – Handel Messiah – 12 July 2014
See more details